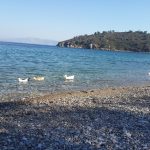 Dear ICT Leading Seagulls,
As you all know the year 2017 is our 14th year in this project . Unfortunately we did not have any registered Seagulls Teams from Turkey but only one team from Sri Lanka_SQC Hawk Eyes from Zahira College. I hope they will be able to end their project in time. Good Luck Sri Lanka.
This year we have had the maximum number project of ever from the Faculty of Education, Boğaziçi University. During the Fall Term of the 2016-2017 Academic Year,  222 senior students of my "Classroom management" course, all mid-term and some final projects registered to the ICT Leading seagulls Project. Totally 115 projects about classroom management and also educational problems with the solutions of the teacher trainees will attract your attention, I believe. Some projects are the result of Peace Education Project of Kocaeli University supported by TÜBİTAK. Projects will be delivered to me on 5th June to be assessed. Our jury members are looking forward to seeing them. Prof.Dr. Syed Ali from USA, Dr. Vineeta Kamran from India, Associate Prof.Dr. Soner Polat from Kocaeli University, Prof.Dr. Zeynep Kızıltepe from Boğaziçi University and Prof.Dr. Filiz Karaosmanoğlu from Istanbul Technical University are our honorary judges. Thanks to them for their great support.
2017 INTERNATIONAL ICT LEADING SEAGULLS PROJECTS
BOĞAZİÇİ UNIVERSITY, FACULTY OF EDUCATION
PROJECTS ABOUT "CLASSROOM MANAGEMENT" PROBLEMS IN TURKEY
All colors in One (Berat E. Şahin, Berrak P. Uluer, Gamze Çetin, Hilal Bayar)-Creating Positive Peer Relationships (How can we manage group work in crowded classrooms?)
Cetgiller/Jets (Gamze H.Kayaalp, Samet sayın, Gülşah Yangıncı, Oktay Menteş, Hilal Canbağı, Emre Kütük)-Needs of teachers (What are the needs of present-time teachers?)
Equalizers (Nazlı Ersoy, Perihan Kılınçarslan, Fadime Kocapınar, M.Mustafa Ünlü)-Education of Disabled Students (Why do not we see disabled people more in Educational settings?)
Four Idiots (Büşra Albayrak, Munise Ahsen Durukan, Dilek Göymen, Şeyma Kılınç)-Lack of communication between parents and teachers (The reasons for the lack of communication between teachers and parents)
Infinite (H.Kübra Karakuş, F.Hazal Merhan, Şule Kalkan)– Problem Students: Types and how to deal with them (Syrian immigrant Students and their problems)
The Last problem solvers (Cansu Özveren, Ebru Demiral, Tuğçe Yıldırım, Yasemin Gök)-Problem solving skills and Project management (Why cannot the Project-based learning practised effectively in Turkey?)
Like a Girl (Nazife Kaya, Menekşe Gözel, Sena Naile Sarı, Melike Bal, Kübra Mor)-Teachers' Attitude towards different genders in classrooms in Turkey Discriminative behaviours of teachers towards genders
Paradigm Shift (Günalp Turan, Esma Parlak, Merve Görkem Yavuz, Lebibe Akekmekçi, Elif Yügen)-Enhancing student motivation (Why are not the high School Students motivated to learn in Turkey?)
Rainbow (Büşra Yeşilyurt, Esra Kılıç, Fatma Karpuz, Selimhan Çiftçi)-Characteristics of Good Teachers (Why is the percentage of good teachers low in Turkey?)
Pangea (Melek Özer, Tilbe Ertik, Aydın Yumuşak, Müsteceb Mutlu)-Using standards (Why can the standards be applied at schools?)
Teachers to be (Elif Çağlar, Dilay Ayten, Mervenur Domur, Aslı Özyurt)-Parent teachers relationships (Why do not parents work with teachers?)
Techno teachers (Nurdan Altunköse, Hakan arda Güven, Emine Kutay, Ömür Soner Özer, Ebru Toka)-Using technology to motivate Students (Why cannot technology be used to enhance motivation in Education in Turkey?)
Villagers (Levent Kıran, Melahat ateş, Turgay Koç, Yasin Alkan)-Learning by doing (Why cannot we apply village institutes in current time?)
Yes, we can (Fatma Aksoy, Özgün Yağmur Karakaya, Elif Kırcı, Berilnaz Özbakır, Özge Memişler)-Positive teachers-student relationship (Why cannot we apply open-door philosophy in our schools?)
——
Educhangers (Rıdvan, Tuba, Özgün, Alper, Burak, Aycem)- Methods for Distruptive Behaviours?     (Why is learning environment disrupted?)
Flexiblockers (Derya Ak, Arif Çakır, Kaan yağcı, Ali Türedi, Ecem Büşra Sulh, Elif Kirlik)-Enhancing students' motivation to learn (Why cannot we sustain students' motivation in this country?)
Flowers within the Villages (Bozkırdaki Çiçekler)(Gülşen Dilan Göktürk, Açelya Seda Akgül, Merve Uzun, Yağmur Ceren Cantürk, Eda Gündoğdu, Büşra Gürbüz)-Why cannot the Village Institution philosophy be integrated to today's educational system?
Harmonica (Çağlar faruk Bayraktar, Hacer Betül Kalıpçıoğlu, Şulenur Kule, Ogün Akay, Eren Kemer, Alaaddin Dündar)-Developing and Using standards in Education (Why are existent rules not efficient?)
Need suppliers (Özge Bakay, Beyzanur Çaksen, Emine Malcı, Gökçe uzun, Mert Kadıoğlu, Nergis Yumurtacı)- What are the needs of Students? (Which one is the most critical need in understanding students' misbehavior in Classroom?)
Parentachild (Dilay Seyçuk, Esra Yazıcı, Büşra Sözüer, Melis Demirbilek, Hande Başak Yılmaz, Nilüfer Avcı)- Roles of parents in Quality Education (Why cannot parents be good role models to their children in this country?)
Player teachers (Selenay Öngiden, Sümeyye Arpacı, Kübra Aydın, Zeynep sezgin, İbrahim Bal, Kübra Ekşioğlu) -Teaching styles and methods for motivating Students to learn ( Why do teachers not to use darama and play techniques in Teaching learning process for motivating Students to learn?)
Radiance (Murat Güç, Sümeyye Öney, Fatoş Aksünger, Uğur Can Turan, Kubilay Bilgili)-Why do teachers fail to change the behavior of student with behavioral disorders in a desired way?
Responsavers (Atviye Koç, Merve Ayaz, Elif Ezgi Aktaş, Sümeyra Batur, Elif Kaplan) -Responding to Behaviour that Disrupts the Learning Process (Why do Students fail to respond teachers' disruptive actions?)
Teaccircle (Esma Baş, İrem Türkmen, Kübra Türe, Miray Kaptan, Nurdan Turan)-Teamwork models from various countries (Turkey and India cases) (Why cannot teachers apply SQC system properly in Turkish schools?
TeaCHAIN (Mukaddes Çoban, Mihriban Kızılboğa, Gülçin Elif Bayram, Hanifenur Kopan,Selin Yıldırım,Gülhizar Bollu) -Lack of communication between teachers and parents (Why is there lack of communication between parents and teachers?)
Teachinfluence (Meryem Cihangir, Şevval Hezer, Gözde Öztaş, Talip Mengüverdi, Ahmet F. Kaymak, Serdal Karabulut)-Problem Students in EducationàRefugee children from Syria (What are the main causes of the difficulties that immigrants or refugee Students encounter?
CREATIVE FINAL PROJECTS OF SENIOR STUDENTS
(01):
ADHD Perspective in Turkey
Anxiety in Language Classes
Closing Village Institutions, sample Case (Kepirtepe)
Disabled students and their Inclusion
Discrimination of immigrant students
Effects of parental education to a student's achievement rate
English Language teaching in State schools
Extra-Curricular activities
Failure of teachers at inclusive classrooms
Gifted students Communication problems
Group work in crowded classes
How does economic status effect achievement?
How to deal with disruptive behaviour
Integration of disabled students
Lack of teacher motivation in state schools
Lacking career guidance in Turkey
Libraries of State schools
Low performance of teachers
Practice and its effects on behaviours of students
Shadow (slow)learners in ELT
Teacher quality in Turkey
Teacher-centered state schools
Underachievement in Physics
Village Institutes and Musical ınstruments
Why not effective teacher
Attitudes toward LGBT Students in Schools
(02):
Anxiety in L2 learners' oral performance in EFL classrooms
Undersupplied students' challenges
Constructive approach problem in Turkish schools
Disruptive behaviours of students
Enhancing students' Chemistry Understanding
Inquiry-based instruction
Knowing learning styles and techniques
Lifelong learning and PİSA
Reading habit problem in Turkey
Role of NGOs in education
Student-centered instruction
Teacher performance after appointment
Teacher training problems in Turkey
Unproductive seminar term in Turkish schools
Village Institutes Museum
Revitalizing Village Institutions
TÜBİTAK-KOCAELİ  UNIVERSITY, PEACE EDUCATION PROJECTS
Kocaeli University-1, Researchers of peace (Ali Tuna Dinçer, Hasret Kuşçu)- Problems of the challenged students who attend primary schools of Turkey.
Kocaeli University-2, (Bulut Atay, Elif Gündüz, Beyza Kaya)- Why do not teachers become good role models about peace?
Van-Yüzüncü Yıl University, (Muhammed Akın, Ercan Çelebi, Esra Karasu, Şermin Kuşan, Şefika Güner)-Ethnical differences and peace
Karadeniz Technical University, (Şule Hancıoğlu, Sefa Enes Özçam, Rümeysa Balkan, Mine Ünveren, Nisanur Avcı)- Fairplay in Sports
Diyarbakır, Dicle University, (Mehmet Şirin Pehlivan, Şeyda Sevim, Hasan Aydın, Mazlum Şimşek, Oktay olarak, Özge Ökmen, Metin Yalar)The Contributions of Faculties of Education to Peace
Gazi University, (Duygu Diğdem Önal, Elif Karadere)- Ways of getting rid of the affects of Mobbing
Ege University, (Ceren Yıldız, Abdullah Sevinç, Banu Törün)- Aegean Region and peace
Akdeniz University, (Merve Salman, Şerife Baysal, Nida Şahin, Sevgi sinem Özbay, Ayşe Metin, Gökhan Ateş)- Peace for various cultures
SOCIAL RESPONSIBILITY PROJECT CIRCLE FROM KOÇ UNIVERSITY: SQC Hominum (Ömer Murat erdoğan, Defne Başbuğoğlu, Pınar Tercanlıoğlu)
TOTAL: 115 UNIVERSITY CIRCLES
HAYAL KÖKSAL
PROJECT DESIGNER &
GENERAL COORDINATOR