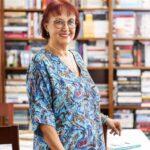 The 18th year of the International ICT Seagulls Projects was completed despite the negative effects of the pandemic. The main reasons for that were; the İmece Circles (SQC) methodology and the continuing consultancy, in addition to the commitment and hard work of the participating schools. They worked hard and they created miracles in their categories. In the "Middle School" category of the Seagulls Project, there were three schools (one school from Sri Lanka and two schools from India).  Within the "High School" category two teams registered, one from India and one from Thailand. On the other hand, two "Community Seagulls" projects consisting of adult volunteers working in non-governmental organizations spread their projects time over two years. Project leaders of that adult category shared the reports of their first year, and they are going to start their work for the second year on November 1st.
This year, for the first time, students from an Indian private school named "Blue Bells High School, Haryana" dedicated their project work to providing technical support to the older members of the community who are having problems with the use of technology in their daily lives due to the pandemic. Thus, a new category they created: "Young Leaders of the Community Seagulls". In 2017, a teacher leader of a Sri Lankan Secondary School (Judith Perera) had conducted a similar project, regularly teaching English to adults in their villages in support of Sri Lanka's tourism and had received recognition for her work. Years pass by, and innovative steps appear within the borders of our Project making us very happy and hopeful for the future days of the world.
I would like to share the project topics and award categories of the teams registered for the "K-12" category in 2021.
*Special Awards are given on behalf of our three precious members who worked hard for the establishment and development of our NGOs_"Association for Innovative Collaboration (YİMEDER)" and the previous one named "Association for Continuous Improvement (Sü Ge Der). Their losses still deeply sadden us. May their souls rest in peace.
Two-year-lasting "Community Seagulls" Projects:
The team, which aims to increase the love of reading within the town inhabitants by establishing libraries in villages in Edremit, Balıkesir (A western city in Turkey) under the name of "Gulf Seagulls", started its second year under the leadership of Sinan Tortum.
"Energy Seagulls" led by YİMEDER also work for preparing a resource book that will raise energy awareness in young age groups.
We are thankful to our jury members for their great efforts and contributions. Their names were as follows:
*Prof. Dr. Syed Ali from Johns Hopkins University, USA,
* Prof. Dr. Richard Ennals from Kingston University, UK,
* IT Director of YİMEDER Mr. Mehmet Gül (TR) and
* Education director of Daily Cumhuriyet (Republic), Ms. Figen Atalay (TR).
I would like to congratulate all the teams that have received very good results by working for months, to thank their supporters, and to wish their successful work to continue in the future.
The main topics of our 19th project, which will start on November 1, 2021, are determined as:
Will the pandemic end? Will there be new ones? What's life going to be like afterward?
Will the Paris agreement bring any solution to the climate problem of the world? Why/not? What is your solution?
Women's Rights & Violence against Women: Do you have any solution?
Why is education in every country losing blood? What are the causes and solutions?
How would you solve the water problem as the future leaders of the world?
We wish you healthy and cheerful days. We hope, more teams will be with us in the year 2022.
Associate Professor Hayal KÖKSAL
Project Designer and Coordinator
0 532 373 84 87