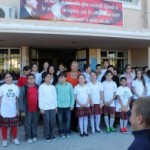 Atatürk Primary School Students, During the Award Ceremony
In the year of 2012, 10 project teams successfully completed their projects. The collaboration was realized with the Beyoğlu Educational Directorate of Istanbul city. The special theme of the year was improving the quality of education in Beyoğlu district. Galatasaray High School was volunteer about it. That school is one of the most outstanding Turkish schools of that region. The Award ceremonies were realized in every school's own Hall. The awarded school of the international category got the award from the hands of Prof. David Hutchins ve Prof.Dr. Dinesh Chapagain during the National Convention of Students' Quality Circles of Nepal.
Successful Schools and their web pages / Blogs:
Istanbul, Beyoğlu İlhan Şerif Primary School, "SQC Media Seagulls": http://medya-martilari.blogspot.com
Istanbul, Scutari, Atatük Primary School,"SQC Enviro Seagulls": www.cevrecimartilar34.blogspot.com
Burdur Bahçelievler Primary School; "SQC Communicating Seagulls": http://www.bahcelioo.meb.k12.tr/iletisim/index.htm
Burdur Bahçelievler Primary School; "SQC Enviro Youngesters": http://www.bahcelioo.meb.k12.tr/cevre/index.htm
Istanbul Beyoğlu Okçumusa Middle School, "SQC Enviro Team": http://cevretimi.tumblr.com
Istanbul, Galatasaray High School, "Sultanî SQC": http://www.gslsultani.org
Nevşehir Hüsayin Avni İncekara Science High School, "SQC Small Bread Pieces": www.nevsehirdeisraf.com
Nepal, Kathmandu University High School, "Google QC": www.kuhsqc.wordpress.com
Nepal Little Angels High School, "Altruism SQC": http://lasqc.blogspot.com
UK, London,Kingston University, "SQC Kingston Hawks": http://khawks.tumblr.com
We are celebrating their achievement.