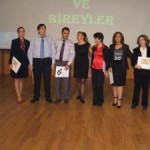 The ICT Seagulls project started its 7th year with the emphasis on ARTS. According to the quality-based philosophy of the Project, every team, finalizing all the steps properly, was a "winner". One of our targets was keeping web sites and blogs alive even after the announcement of results in addition to following the rules and regulations. So the ex-participants would also go on exhibiting and sharing their projects with the community.
The main theme of the year was; "ART". In other words; no other project topic  included in the studies that year. All the teams focused on one problem area, in their own environment which might have been their school, their village/town/city or country.
On the way of training qualified citizens, why is ART important and essential? Do we give the necessary importance to ART in our schools or home? What are the main problems of our school (?) concerning the art education? How can we solve them? How can we create awareness of ART-NECESSITY for TQPs among the school partners like teachers, parents and other community members? We will take PDCA Mindset steps as we used to do. We will implement activities of art and will share everything on our web pages or Blogs.
What kinds of branches are included in "Art"?
All of the two-dimensional studies like; all kinds of drawings on paper, material or wall, poster, graphics, caricature, photograph, batik, ornamenting, etc.
Three-dimensional arts like; sculpture, ceramic, relief, etc.
Landscape architecture for gardens or rooms.
Literature (Novel, short-story, poetry, essay writing, scenario, film or drama manuscripts, etc.
Music (All kinds)
Performance Arts: Ballet, folk dances, dance, pantomime, etc
Dramatic arts: Drama, opera, musical play, puppet show, cinema,
İMECE CIRCLES :
Tekirdağ Çorlu-Velimeş  Primary School, Preschool Class : SQC Butterflies (5 years oldies)
 Burdur Bahçelievler  Primary School
İzmir Kemalpaşa Primary School
Çorlu Velimeşe Primary School (3 Projects)
Antakya Bedii Sabuncu Primary School
İzmir Işıkkent Primary School
Ağrı Diyadin Boarding Primary School
 Muğla Turgut Reis Anatolian High School (3 Projects)
Private  Irmak  High School
Sarıyer, Vehbi Koç Foundation High School (2 Projects)
Muğla University, Faculty of Education, Physics Department
An NGO: TOFD (Spinal Cord Paralytics Association of Turkey
Out of 7 projects, only 3 could finalize their projects: 1.  City Montessori School, Lucknow, India (CMS)(2 projects), 2. LAHS
Those projects are in CDs. If you are interested in them, ask from us and we will send it to you. The above picture shows the city coordinators of the ICT Seagulls Project. I am thankful to them.
Hayal KÖKSAL